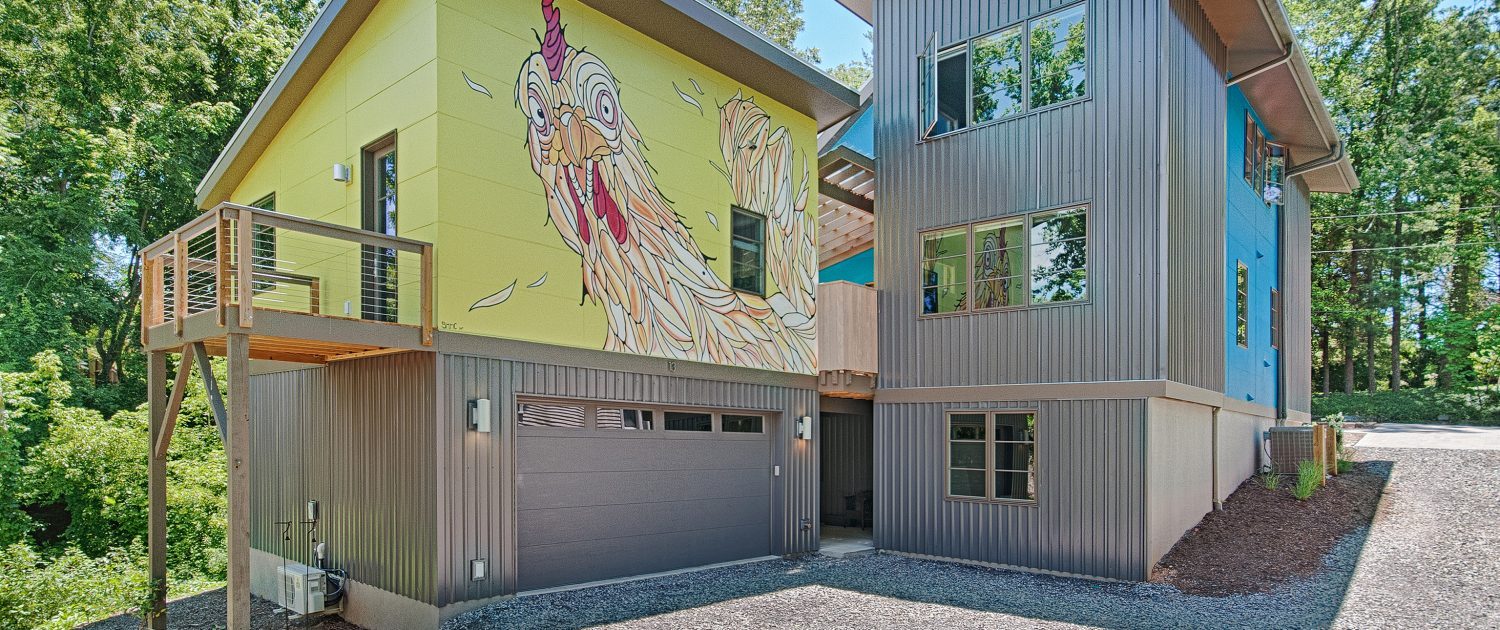 Over 35 Homes Green Certified
Greencraft Homes
Home Owner Benefits:
Lower Energy Bills: through energy efficient lighting, equipment, and appliances
Healthier and Comfortable Indoor Environment: consistent temperatures and reduced risks
Increased Market Value: higher resale value of a home
Financial Tax Incentives: state and federal tax credits for renewable energy and energy efficiency
Performance Report: third party verification quantifying the home's overall energy score, annual energy cost savings, and pollution prevention
Reduced air pollution through energy efficiency
Greenbuilt NC
Green Built NC Homes is a statewide program in North Carolina that provides a certificate for builders who meet "green home" guidelines. These guidelines emphasize comfort, health, energy and water conservation, site preservation, and renewable energy use.
This certification includes either ENERGY STAR certification (or a HERS Index of 85 or less and showing that the house is 15% better than the 2009 International Energy Code), plus inspection of additional items specific to the Green Built NC program.
Green Built NC Program encompass all aspects of environmental design and construction including:
Site and Landscape: healthy outdoors by using erosion control and saving existing trees
Water Efficiency: lower water bills by using high efficiency irrigation and plumbing fixtures
Building Envelope: lower utility bills by using high efficiency windows and insulation
Heating and Cooling Systems: higher comfort with efficiency equipment and sealed air ducts
Appliances and Lighting: lower utility bills by using Energy Star appliances and lighting
Indoor Air Quality: a healthy interior with non-toxic finishes and minimizing moisture
Materials: a low maintenance home using durable, local, and recycled content materials
Third Party Verification: reassures the home owners that your homes are reviewed by an independent team of high performance building professionals
Energy Star
EPA's ENERGY STAR Program was created to help identify the best ways to save energy. The little blue label says this product, this home, this building or factory is doing the right things to save. And energystar.gov offers the most comprehensive resource available for energy efficiency advice and information.
ENERGY STAR certified homes are independently verified to meet strict guidelines for energy efficiency set by the U.S. Environmental Protection Agency. These homes save money on utility bills, provide a more comfortable living environment with better indoor air quality, and help protect the environment.
Typical features to look for in ENERGY STAR certified homes include:
 Efficient Walls and Windows, the levels of wall, floor and attic insulation properly installed designed to block drafts, and high-performance windows;
Efficient Air Ducts, so rooms get enough air to have consistent, comfortable temperatures throughout the house;
Efficient Equipment for heating, and cooling the house, helping you save money while staying comfortable;
Efficient Lighting and Appliances, including ENERGY STAR certified dishwashers, refrigerators, light bulbs and clothes washers.
Better energy efficiency and performance means lower utility and maintenance costs. Homes earning the ENERGY STAR label use 15-30 percent less energy than typical new homes, and even more when compared to most resale homes on the market today.
Based on national averages, ENERGY STAR certified homes
built in 2015 are the equivalent of:
Reducing CO2 emissions by 141,952 metric tons
Growing 3,607,528 tree seedlings for 10 years
Avoiding the consumption of 330,131 barrels of oil
Removing 29,867 passenger vehicles from the road
HERS
The Home Efficiency Rating System is the industry standard by which a home's energy efficiency is measured relative to other buildings. It's also the nationally recognized system for inspecting and calculating a home's energy performance, similar to the Miles Per Gallon (MPG) rating for cars.
HERS Rating – The lower the HERS rating the more efficient the house. We are happy to report that we have perfected our approach to designing the best system for a particular project and work with subcontractors that do work above industry standards.
To calculate a HERS score, the variables under consideration include all exterior walls, flooring, ceilings and roof, foundation, windows, doors, vents and ductwork, HVAC systems, water heating systems, etc.
The current International Energy Efficiency Code (IECC) is a HERS score of 100. What does all of this mean to you? A low HERS rating can mean high resale value, lower utility bills, better air quality and lower environmental impact.
Because of our high standards, Greencraft homes are above code standards and on average our homes HERS rating range from 50 to 70.
For more on HERS Scores and their meaning:
http://www.resnet.us/hers-index-score-card
Resources
Western North Carolina Green Building Council    www.wncgbc.org
Energy Star     www.energystart.gov
Vandermusser Design, LLC      www.vandermussuer.com